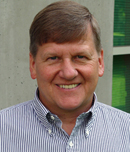 Dave Tindall
For more than three decades, Dave Tindall provided information technology leadership for Seattle Pacific University. During that time, he guided the university through countless IT transitions, from the era of mainframe computing to the emergence of microcomputers, campus networks, learning management systems, smartphones, cloud computing, social networking, and so much more. Dave earned a Bachelors degree in Business and Economics (SPU-1975) and a Masters in Information Systems (SPU-1989); he later served as an adjunct faculty member in Computer Science and Business and Economics.
During his long career, Dave served on numerous regional and national committees and boards in the areas of information technology and business administration. In 1991, he became Seattle Pacific University's representative to NWACC and began his tenure as a distinguished contributor to the NWACC community. Over the course of a quarter century, Dave participated in a wide array of NWACC activities, including the Leadership Program Committee, the Grant Committee, and the External Relations Committee. His gift for leadership was amply demonstrated when he chaired the Awards Committee, the Nominating Committee, and ultimately the NWACC Board of Directors (2010-2012).
Through the years, Dave set the tone of many NWACC meetings with his warmth, wisdom, and wry sense of humor. In light of his leadership within Seattle Pacific University and the NWACC community, the Board of Directors is proud to recognize Dave Tindall with the 2017 NWACC Leadership Award.