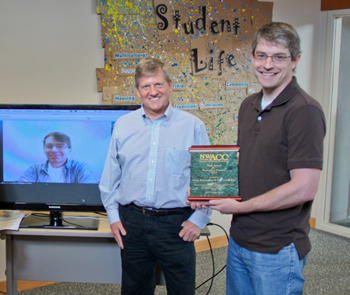 iGFU Mobile Portal, George Fox University
The Challenge
A mobile portal is an expectation for navigating higher education today. Creating innovative uses for a mobile portal requires a proper technical foundation and tool kit in the hands of creative developers. The iGFU mobile portal has all the normal lookups and event listings, it taps into enterprise applications like the LMS and ERP to extract faculty, staff and student information. But iGFU's creator, Brian McLaughlin, knew it could do more, so he started soliciting requests for what the user base wanted. A basic rule to follow for mobile development: does a service provide useful information that one might request while walking across campus. Of course this focus tended to lead to a web based design that was mobile ready but could be accessed most anywhere. Because data access for mobile presentation had to be efficient and presentation had to be simple, requests started surfacing for business activity that was in desperate need of simplification. The first was the presentation of real time budget data to managers at the university. Another was simplifying the process of offering student advising and the list kept growing.
The Project/Solution
Some of the more challenging mobile service requests were based on access to the PeopleSoft ERP system with access control requirements, especially the observance of commitment control for working with budgetary reports. Brian McLaughlin is the mobile presentation guru as well as the holder of the keys to the data since he is the Database Administrator. But it was Tim Goodfellow who had perfected the use of data extraction efficiencies by using the PeopleTools Web Services technique. So to answer the plea from our new CFO for a more effective quick view for budget managers, Brian and Tim designed, developed, secured and validated a platform independent mobile application scaled to what ever screen size one's mobile device had.
Outcomes
Mobile ready budget presentation complete with cost center summaries, alerts and encumbrances available to all university budget managers
Faculty advising tool which monitored student advisee's progress
Mobile WiFi based responseware survey tool based on who was in a specific class
A development strategy that allows for quick, creative and secure mobile applications
Relevance for Other Institutions
Most institutions of higher education today have or are working on some form of a mobile application presence for their campuses. The design strategy used by Brian and Tim can be replicated for any data access and manipulation from today's enterprise systems. It is not just about owning your own mobile strategy, it is about controlling it.